Late last month Microsoft announced that it will turn its physical stores into esports gaming arenas.  The move intends to bring players into its stores and will likely help enhance retail.
Partnering with ASUS Republic of Gamers and HyperX, it will host weekly League of Legends events across the U.S., Canada, Puerto Rico and Australia.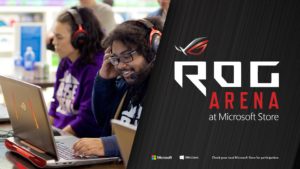 Touted as ROG Arena, players of all levels will get a chance to play League Unlocked, a premium experience for official League of Legends partners and live events.
The move acknowledges the popularity of esports and hopes to capitalize on bringing together a community of players.  Obviously, having these tournaments in the Microsoft store provides retail opportunities for the company.  An interesting idea that will likely foster a relationship between the company and the burgeoning rise of esports across the world.